click pictures for larger image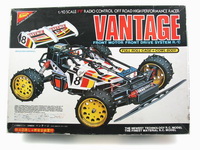 The Nichimo Vantage is one of the rarer front wheel drive buggies made in the mid 80's (their other front wheel drive is the Spirit). The chassis is similar to the Tamiya Hotshot in its design.

Nichimo made around half a dozen kits in the 80's, (Spirit FF, Exceed 443, Cosmo Shooter, Luminous, Midships, and Vantage). Nichimos only had limited distribution during their day and as a result are somewhat hard to find.