click pictures for larger image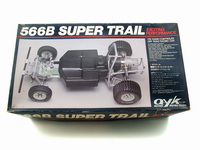 The AYK Super Trail was AYK's introduction into the off-road market. While AYK reaped notable success in the 1/12 scale on-road market, the off-road market was starting to take off. Once Kyosho entered the off-road market, AYK - like other manufacturers - followed suit.
The 566B Super Trail is a 2WD buggy. Typical of AYK engineering, it consisted of an innovative aluminum chassis, enclosed state-of-the-art transmission with all aluminum gears, and a waterproof radio case..