click pictures for larger image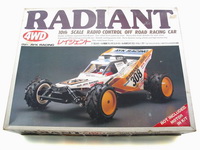 AYK's more popular 4WD buggy came in the form of the AYK Radiant. Keeping in line with their competition of the time, the Radiant looks very similar to the Kyosho Ultima. It sports an anodized aluminum chassis with a chain driven 4WD system with a mid mounted motor. The unique front suspension uses knuckles with upper and lower ball joints for support on upper and lower arms. It also comes with an optional 2 speed transmission. One major flaw is in the lexan Radiant body. The rear panel where it mounts to the chassis is extremely thin and rarely survives the first crash without beginning to tear.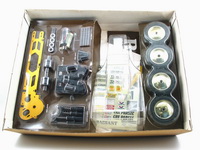 Typical of AYK model duplication, the Radiant shares its design with the AYK Maverick and the AYK Boost. It would later be released in the US by Race Prep as the Radiant Pro (with orange suspension parts instead of black).

When Race Prep (Canoga Park, California) took over the US distribution of AYK's Radiant in the early 1990's, they also introduced various hop-ups for the Radiant/Maverick/Boost, including ball differential, aluminum suspension arms and upgraded shocks.